Transfiguration
Dale Allen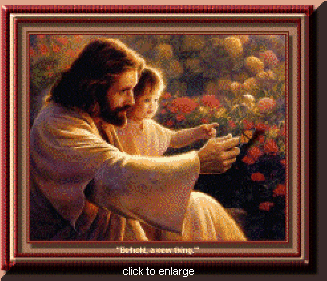 During a Wednesday morning prayer time in the sanctuary the Lord spoke these words to me, "I don't want Immanuel to be a "ways and means" or "altar building" Church. What I want is a Church who looks to Me, the Author and Finisher of their faith." "Therefore, since we are surrounded by so great a cloud of witnesses, let us also lay aside every weight, and sin which clings so closely, and let us run with perseverance the race that is set before us, looking to Jesus the pioneer and perfecter of our faith, who for the joy that was set before Him endured the cross, despising the shame, and is seated at the right hand of the throne of God." (Hebrews 12:1-2)
It is so easy for us to look for the "ways and the means" to follow and serve Him rather than trusting Him totally for everything. When He says He is doing a "new thing" in our midst, we look for the "new thing" rather than look to Him.
Consequently, when Christ came into the world, he said, "Sacrifices and offerings thou hast not desired, but a body hast thou prepared for me; in burnt offerings and sin offerings thou hast taken no pleasure. Then I said, 'Lo, I have come to do thy will, O God,' as it is written of me in the roll of the book." (Hebrews 10:5-7)
He then led me to the gospel account of the Transfiguration. "And after six days Jesus took with him Peter and James and John his brother, and led them up a high mountain apart. And he was transfigured before them, and his face shone like the sun, and his garments became white as light.
And behold, there appeared to them Moses and Elijah, talking with him. And Peter said to Jesus, 'Lord, it is well that we are here; if you wish, I will make three booths here, one for you and one for Moses and one for Elijah.' He was still speaking, when lo, a bright cloud overshadowed them, and a voice from the cloud said, 'This is my beloved Son, with whom I am well pleased; listen to him.' When the disciples heard this, they fell on their faces, and were filled with awe. But Jesus came and touched them, saying, 'Rise, and have no fear.' And when they lifted up their eyes, they saw no one but Jesus only." (Matthew 17:1-8)
I knew immediately why He led me to the Transfiguration story. There have been so many great experiences with the Lord in our lives at Immanuel and we, like Peter, wanted to build an altar and stay there, and we did!
I was convicted in my own life of altar building and had to repent of it.
How many times do we look back at our altars and long for that experience again? Because of that we miss what the Lord wants to do in our lives and in the midst of His Body at Immanuel.
Where have you built an altar?
Was it your salvation experience, baptism of the Holy Spirit, healing?
Or could it possibly be your ministry?
Has our pastors, past or present, become altars in our lives?
Maybe this is way we see bickering, grumbling and dissatisfaction in our lives.
Or, are we looking to Jesus the Author and Finsher of our faith?
I believe the Father is saying to us today, "This is my beloved Son, listen to Him."
Only then will we have eyes to see the "new thing" God is doing in our midst.