Ex-Pastor is Finally Glad He's Embraced House Church
Steve Eastman
openheaven.com@earthlink.net

Raleigh, NC: Jeff and Sheila Burns had it good. They were pastors of Christ Community Church, a growing congregation of 150 or so in Raleigh. The North Carolina city is consistently ranked as one of the 10 best places to live in national surveys. God had brought Jeff and Sheila a long way in their 18 years of ministry. They both graduated from Jerry Falwell's Liberty University.Christ Community, on the other hand, was on the cutting edge of charismatic Christianity, a "partner in harvest" with Toronto Airport Christian Fellowship. The building itself, a converted restaurant, came with a fine kitchen. The church even allowed a local Messianic congregation to use its facilities. Yet God was getting ready to unfeather Jeff and Sheila's nest.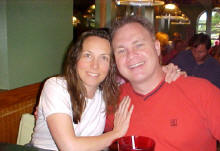 God spoke to them in numerous ways about switching to house church, beginning with a book given by a church member. Sheila was immediately impressed with Houses That Change the World, written by German house church planter Wolfgang Simpson. Jeff wouldn't read it for months.

God also spoke to Jeff and Sheila by prophetic presbytery in a camp sponsored by Toronto Airport Christian Fellowship, an organization that does not normally have a lot to say about house churches. Sheila tells us about a prophecy from a woman there. "She said she saw us helping young adults plant house churches. She also said, 'You're going to experience a painful bruising. It won't lead to death.'"

Sometime after that Jeff called for a prophetic prayer meeting at Christ Community. He says they were prophesying things like, "I see us meeting in houses all over the city. We don't need a building." Finally, Jeff got a word from God during a trip to the beach. "I'm drying up what I'm doing. My cloud is moving. Follow my cloud"

While all this was going on, the growing church of 150 or so was faced with a challenge from local government. Officials wanted to widen the road in front of the Christ Community Church building, which apparently meant losing the parking lot.

The church board was considering relocating to a former hotel in a different part of town, but Jeff was uneasy. "I went up and looked at it and I almost got sick. My stomach got in knots." According to Jeff, a developer on the church board, who was pushing for the new building, suddenly stopped and said, "I've always thought, though, the real way to do church would be for everyone to meet together once a month. The rest of the time they'd be in houses." The developer then abruptly switched gears again and promoted the building.

Within a week after Jeff announced where God was leading, the prophesied bruising began. "People calling the office and complaining. It got really bad. It just began to really unravel. Even though we had these confirmations, in my heart I really didn't want to go this way. I was very content with (the) renewal (movement)."

Sheila tells of a lady in the church who would prophesy, "Take it into the homes. Get out of the four walls." According to Sheila, after the service the woman would speak from her own fears and say things like, "Let's not do this, Jeff. It's going to damage everything. It's going to ruin everything."

Although 120 were initially ready to go to house churches, only 15 to 20 are currently involved. Many wanted something closer to the cell church model where Jeff would still be senior pastor. Some members joined themselves to another Toronto-affiliated church in the area. Christ Community eventually sold the building to Pilgrim Presbyterian, a congregation that was aware of the road widening plans and made the necessary changes to the remaining part of the property.

Sheila weathered the church changes comparatively well. "It wasn't as hard for me to let go because people reacted so badly that, at the time, I just wanted a different life. I just felt like the Lord wanted us to have a new season in our lives where we could have more of a home life."

Jeff, who enjoys making references to movies, likens his reaction to turning to the Dark Side. "I actually began to doubt for a season there. I began to doubt the existence of God. It was scary. I remember waking up saying, 'God, why did you tell me to do this?'" Jeff turned to a group of men, who were already doing house church in Raleigh. They, and a few others, met at a restaurant every Friday morning for fellowship, accountability and prayer. One of them said, "You guys should go to the young adult house church for about three weeks and just teach and pour into them."

Jeff arrived at the house church with misgivings, but cooperated when they asked him to tell his story. "Sheila spoke up and said, 'Jeff is going to give a prophetic word to everybody in this room.' I guess there were about 30 kids there that night. I was like, 'What are you doing?' But the Spirit of God came. The prophetic flowed out of her. I was shocked to see it happen because we were so dry." At that point Jeff and Sheila linked up with the young adults. "They began to ask us to speak into things. We really tried to be careful about that. We did not want to, in any way, appear a pastor or leader of something like that."

Jeff says the biggest part of his healing from this spiritual dryness took place this past January as he was headed to a young adult retreat in the mountains. He was listening to "Let Faith Arise" from a Jason Upton CD. "That song was prophetic. He obviously had gone through a time of pain. Everything he said was what I felt in my heart. When he said, 'All my friends have abandoned me. All my heroes have left me. Let faith arise,' I just began to weep. The Holy Spirit fell in the car and I just started laughing. I hadn't laughed in so long. God said, 'I am still here. I never left you. I'm with you.'"

Another healing time for Jeff, was when he was providing temporary lodgings to a man and his wife from Sojourners house church network in Raleigh. "I remember one time (she) came down and said, 'I need to talk to you.' I thought she was going to rebuke me about something. She said, 'I feel like there's something in you that really wants to pull away. We're not going to let you go.' I've never had anybody say that to me. I began to realize there are people in this movement that really want to be the church, that really want to walk together."

The young adult house church, that Jeff is part of, has given birth to three daughter churches. One is a children's house church. Another is a Hispanic house church in a trailer park. The other is a college house church at the University of North Carolina at Chapel Hill.

Just as the men at the weekly breakfast helped mentor Jeff, now he's helping to mentor a group of young men he calls the Wild at Heart Group. "We've got 12 guys from our house church. We're taking a journey together. It's really laid back. I wanted to be able to help and disciple people in the regular church, but I didn't know how to do it. I've just got some of these young guys. I'm just walking with them. I try to find something they each like to do." One of the young men likes to work out, so when they're doing that Jeff asks, "Tell me about your life. What is the number one thing you need from me right now in your walk?" Jeff and another one of the guys are building relationships with Muslims.

What's Jeff's advice for other pastors considering a shift to house church? "I think there is a place for a transition, for some people." Jeff says the first step is to pray a lot. "Decentralize as much as they can already. I think it would be great if the pastors could begin to learn a new vocation." Jeff recommends that churches with cell groups transition to house churches. "Cell groups are still top-down. They still have a leader. It's still very hierarchical. If it's really house church, it's horizontal. There will be leadership through influence, but it has got to be character and influence. It can't be, 'I am the leader.'"

Jeff and Sheila Burns began moving toward house church three years ago, after God had been dealing with them about it for a year. Although it wasn't always easy they are glad they said, "Yes, Lord."

Jeff Burns is getting ready to give his doctoral dissertation at Pat Robertson's Regent University in Virginia Beach. It details his ongoing project of connecting house churches to mission efforts in China. Since he no longer receives a pastor's salary, Jeff found a job in the marketplace. He's excited about his new career of arranging conferences that match entrepreneurs with established business people. Christ Community Church also gave severance pay to ease with his transition.

Jeff may be contacted at jeffburns@portbridge.com